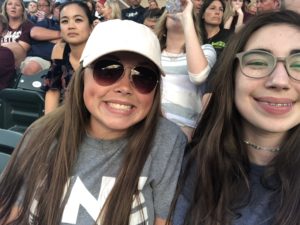 The summer started pretty dismally. With the unexpected loss of relationships taking quite a toll on me, I wanted nothing more than to go home and spend some days working through my problems from the comfort of my own home. My lifelong best friend however had some different plans.
I came home upset and an absolute wreck one gloomy Friday to her bright silver jeep waiting in my driveway. I couldn't help but allow a big grin to spread across my red tearstained face. "May!" I greeted her with a laugh and a great big hug.
"I heard about what happened, Kara. And I'm here to take you out." Now with that statement I really chuckled. Out was the last place I had wanted to be. Though I knew she would always be there for me, I really appreciated the gesture, given our relationship had been a little rocky for the last year or two. She had been by my side since our potty training days, and she had reminded me that she wasn't disappearing on me anytime soon.
The seemingly vital relationship I had lost left me feeling really empty. I felt as if I had lost everything. But as I looked into the hazel eyes of my friend I realized the vital opportunity I had just gained: reconciliation.
Though I know our relationship will never falter, we had some rough patches we were working through at this time. We had our own unspoken reservations with each other that kept silly spats on the surface. But when I needed it most, her unwavering support met me as I fell.
"Get in Kara we're going out now," I could tell she was not going to take no for an answer. "Have you been to Century Square yet?" she asked, beaming as her notorious dimples peaked beside her bright smile.
She took me to get our nails done, to dinner, and we ended the night at a TAMU softball game. She spent the day making me laugh until I cried and drying my tears when the pain came back to taunt me. We jammed to old Taylor Swift on repeat and belted the songs like it was the first time. Sucking down strawberry milkshakes, we made our way back to the house that night and I realized just how important this human really was to me.
The instant I was down I found her there to help pick me up. And that is the real vital relationship I rediscovered this summer.