The Namesake by Jhumpa Lahiri
by Maya Girimaji, managing editor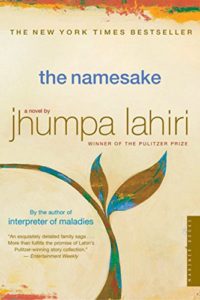 Jhumpa Lahiri's book The Namesake is quite possibly the best written example of the life of an Indian immigrant family in the United States. The book follows the Gangulis, a Bengali family of four, throughout their lives. It begins with the mother Ashima's point of view, starting in Calcutta and leaving for the United States after her arranged marriage to Ashoke and starting a life near Cambridge. After the birth of Gogol and after the conflict of bestowing this untraditional name on him, the point of view switches to their son Gogol's. But his name is something that haunts him and throughout the book he constantly fights this internal battle.
The Namesake is an intimate story because the reader becomes apart of the Ganguli family and learns many intimate secrets. Gogol is the perfect example of a first generation child as he struggles to balance the two conflicting cultures: American versus Indian. His top priority was friendship instead of family which causes him to drift further away from his parents and his roots, a hard reality for many immigrant families. But it's a very simple story. There's no action or intense drama–just a novel about heartbreak, family, love and divided loyalties.
City of Bones by Cassandra Clare
by Kaleigh Waguespack, staff reporter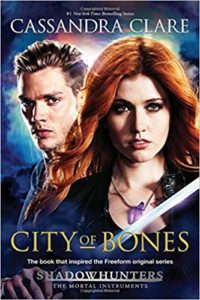 City of Bones by Cassandra Clare is about 15 year old Clary Fray, who lives a normal life with her single mother, Jocelyn Fairchild, and her best friend, Simon Lewis. The book begins with Clary and Simon at a club named Pandemonium, where she notices a few teenagers sneak into a storage room. Clary let her curiosity get the best of her and followed them in. When Clary was shocked to see them kill a demon, they quickly explained that they were shadowhunters and that as shadowhunters they are supposed to kill demons. The shadowhunters, Isabelle, Jace, and Alec, were extremely surprised that Clary was able to see them because only shadowhunters can see other shadowhunters. When Clary returned home, her mom was being unusually over-protective and insisted that Clary go pack her things so that they could move away from New York and into a secluded country home owned by Jocelyn's best friend, Luke. Clary grew angry and left the house only to return later to find her house destroyed and her mom gone.
City of Bones is a great book for teenagers, it's full of action and even has a little bit of romance. Throughout the rest of the book Clary is presented with many challenges and obstacles while searching for her mother. Clary finds out that her normal life she was living was all a lie and that her mother had been hiding something from her all along. Little did Clary know it was only for her own protection. City of Bones, the first of six books in the Mortal Instrument series, is a great book full of action and the secrets surrounding Clary's life keep the reader wanting more.
A Game of Thrones by George R.R. Martin
by Drew Howerton, senior executive editor
A Game of Thrones i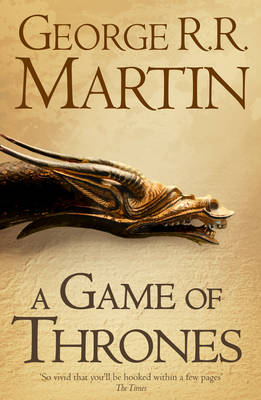 s the first in George R.R. Martin's seven book A Song of Ice and Fire series. Taking place in the Seven Kingdoms of Westeros and its surrounding areas, A Game of Thrones follows three main plots as they weave together, telling these storylines from the perspective of a different character each chapter. The principal story follows the highborn House Stark of Winterfell, specifically its patriarch Lord Eddard "Ned" Stark who is asked to serve as the right hand man to his old friend, King Robert Baratheon. The honor of serving the king fades as Ned soon learns that Robert's rule is riddled with corruption and deceit. Meanwhile, in the far north, Ned Stark's illegitimate son Jon Snow has taken up service in the Night's Watch, an ancient brotherhood that guards the kingdom from the long-extinct Others. Across the Narrow Sea, Daenerys Targaryen, the last heir to the Targaryen dynasty that once ruled the Seven Kingdoms, is amassing an army to retake her rightful place on the Iron Throne. Political intrigue, deception and a lot of death follows in A Game of Thrones. Although Martin's books have since been adapted into HBO's smash-hit show Game of Thrones, the books are much more complex than the television show is able to be.
The main thing that drew me to A Game of Thrones was the scale of the story. In the course of a single book, Martin takes readers on a journey from the summer castles of King's Landing to the cold and mysterious forests of the land north of The Wall. A Game of Thrones spans two continents as Martin shifts between the crisis unfolding in the Seven Kingdoms and the rise of the Targaryens in the land of Essos. Despite the massive world that is depicted in the book, the shifting narrative is akin to that of a movie or television show, making plot twists carry more weight and creating an air of suspense. Of course, it also helps that Martin includes a map and appendix in order to keep locations and characters straight. Speaking of characters, A Game of Thrones has an incredibly intriguing cast of characters. They are well written, witty, and there are no clear bad guys or good guys because each character has their own motivations and allegiance. One issue I have with A Game of Thrones is how graphic the book can be. Violence and sex are both described in upsetting detail, and sometimes go hand in hand. However, these elements serve to create an unfortunate realism that is often absent in other works in the fantasy genre. Martin gives the same amount of focus to horrible violence that he gives to kings and knights, because both are important parts of real medieval history.
A Game of Thrones is a captivating work of fantasy, serving both as a companion to HBO's adaptation, as well as the first book in a long and twisting series. As soon as the first book ended, I went and picked up A Clash of Kings, the second book in the series. I've gotten hooked on A Song of Ice and Fire in a way I haven't been hooked on a book series since I read Harry Potter. I would recommend A Game of Thrones to anybody looking to enter a larger than life world filled with lovable and complex characters. Read as soon as possible, because winter is coming.