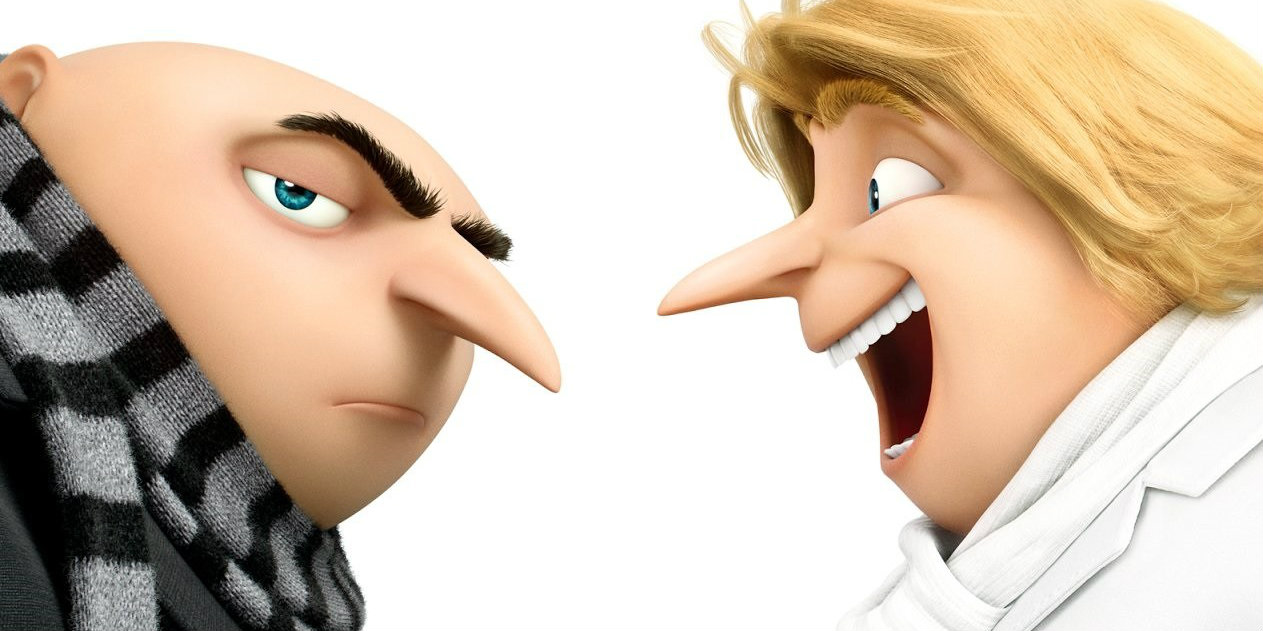 by Jennifer Zhan, editor-in-chief
At one point, it was pretty impossible to do anything without seeing a fluorescent yellow minion. The babbling, bespectacled creatures delighted both children and adults. Gru's little followers found themselves on backpacks, t-shirts, memes, Tic-Tacs, and even Amazon boxes. And the Halloween after the first movie, many trick-or-treaters took to the streets in bright shirts, denim suspenders, and large goggles.
The third installment of the Despicable Me franchise had a lot to live up to. Though I liked the minion movies, after two of them, it didn't seem like there was an entire movie's worth of content left to explore. But with so much profit left to gain, I knew Illumination Entertainment would think of some way to prolong the plot. And it came in the form of a twin.
Steve Carell returns as the accented voice of both Gru and his better-looking, richer brother Dru. Discovering that he has a twin living a life of luxury in Fredonia comes as a blow to Gru, who's just been fired for failing to stop the theft of the largest diamond in the world. Margo, Edith, and Agnes see the trip as a chance to relax before figuring out what their unemployed parents will do now that they're no longer agency spies. Meanwhile, Dru has plans to tempt his twin back into the family traditions of villainry. The brothers end up facing off against Balthazar Bratt, in an attempt to steal back the jewel that lost Gru his job. Balthazar is a spindly, dancing caricature of a child star gone wild. A celebrity of the 80s, he's still hung up on his past fame, which luckily for audiences, means frequent clips of Michael Jackson, Olivia John-Newton, and Madonna. This musical antagonist fits well with another Pharrell Williams soundtrack of irresistible tunes.
But apart from Balthazar, the movie seems to play it safe with characters. We've gotten to know Gru and his family over the last couple movies, and they're kept almost exactly the same. While this makes the characters feel familiar, their actions become a little too predictable. It's not hard to see where the main plot will lead, and even in scenes that are intended to be 'thrilling,' there's no worry that things won't work out exactly how you expect.
Still, that might actually be the film's charming point. Since they're not too preoccupied with delivering the most fresh or groundbreaking storyline, directors Pierre Coffin and Kyle Balda had fun throwing in as many subplots as possible. For the majority of its running time, the movie almost independently follow the minions, the girls, Lucy, and Dru and Gru. There's a lot going on. A serious film critic might roll their eyes when the scene suddenly cuts to a minion musical number, but once you embrace the fact that the movie isn't trying to be anything spectacular, it's easy to relax and appreciate the outrageousness of these random scenes. At the very least, 'Despicable Me 3' definitely doesn't fall into the category of family movies that cause members over the age of 8 to cringe. The humor is a little childish, but judging by the laughs I heard in the theater today, there's a kid in everyone.
Beyond the laughs, as always, there's an underlying message about family that manages to be quite sweet despite being so cliché. As Gru and Dru struggle with their own different insecurities, the movie also touches upon feeling like a failure and comparing yourself to others. Perhaps it's a hint that audiences shouldn't compare 'Despicable Me 3' too much to its predecessors. As Gru explains kindly to Agnes in the second half of the movie, sometimes you expect to find a unicorn and get a goat instead. That's this movie. It works to make you laugh and promotes uplifting themes throughout. Just because it's not as dazzling or unique as a unicorn doesn't mean it's not wholesome and enjoyable. You might find yourself missing a 'wow' factor, but there's still charm in this hour and a half of lighthearted adventure.