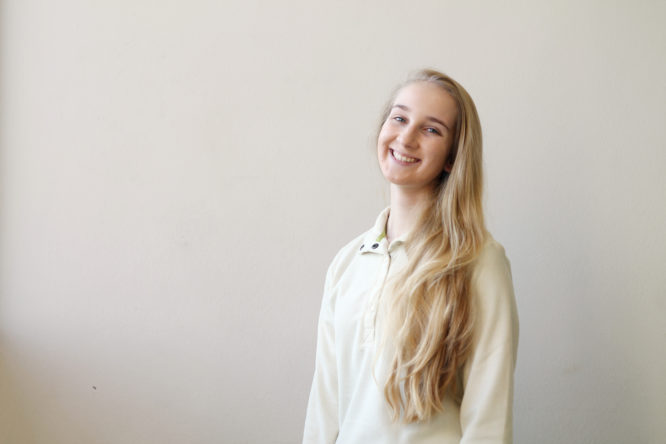 by Haley Mitchell, managing editor
I never thought of myself as the kind of "alternative" person who seriously considers art school. Art school. Going to college to learn about… art. Which should prepare me for a career in… art. Even as I write the words the pieces still haven't quite clicked, but I pretty much sealed my fate months ago when I was sending in applications to film and design schools and nowhere else.
My own talents shouldn't shock me as much as they do. I was the kid who loved art class. It would be a lie if I said I didn't know I was my one of my kindergarten art teacher's favorites. I took several painting classes to occupy my summers and a good go-to birthday gift was always art supplies when September rolled around. I've since moved on to other mediums—you mostly see my work in The Roar every six weeks and in film fest at the end of the year, but art is art.
As acceptance letters come in, I'm facing some very real decisions that are starting to look risky with President Trump's current proposition to defund arts and humanities endowments. While these changes wouldn't affect the endowments and other agencies right away, but the fact that this is even being considered is heartbreaking.
Whether we realize it or not, pretty much everyone consumes art. We buy our art in department stores and wear it to school and work, we see art in every advertisement, carry art in our wallets, listen to something resembling art on the radio, sit in art every time we check into hotels and drive cars, and we create our own art every time we take a photo or doodle. Art invaded digital platforms long ago—we watch our art in movie theatres and Netflix accounts and click on art every time we visit a well-designed webpage.
You can like or dislike athletics, can enjoy literature versus trashy romance novels (or both, in my case), can say you hate museums and just art in general, but living without art in the colorful melting pot of American culture where our art is the work of designers graphic and interior, filmmakers, architects, painters and the like is impossible.
As the child of a PhD cell biologist and civil engineer it's not like I don't see the downsides to professions that aren't even considered a serious industry, but I was never discouraged from art. My parents may not have understood my obsession with acrylics and Vincent Van Gogh, but I was still raised by two creative people. Old photo albums I've stumbled across are filled with stunning landscape photographs, the work of my mother, who admitted that she dreamed of being a National Geographic photographer. My dad, on the other hand, used to draw cartoons on my brown paper lunch sacks in permanent marker.
Art isn't just all around us, it's in us. Maybe not the capital-A Art that Oscar Wilde kept pretentiously referring to in De Profundis (shoutout to senior thesis), but something close.
So I'm going to art school. Art school. Where I'm going to learn about things that I love to learn about. Sure, my career path probably won't be as useful as designing bridges or researching rotaviruses, but I'm going to love what I do and work just as hard as anyone who designs bridges or researches rotaviruses. The world needs people like me as much as it needs the dentists and lawyers that most parents hope their kids will become.
Recently I picked up knitting, and along with having a riveting subject to text my grandma about, I find myself scrutinizing the pattern every cardigan and sweater I see in the halls. Sure they're all probably factory made, but someone had to make the prototype. I'll bet they were an artist.