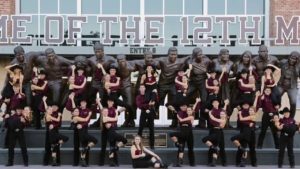 by Josh Weimer, online editor
The Roar interviewed senior Tiffany Barrett, a member of the Elite Wranglers who performed at the inauguration of President Donald Trump.
What did you have to do to get to the inauguration?
We had to submit an audition video that showed them we could move and dance at the same time. Normally we are stationary when we dance, so we had to show that we could keep moving because it's important that we don't stop during the parade. We had to submit the video and then go through an audition process. We also had to get a bunch of letters of recommendation from both Texas Senators, Bill Flores, etc.
What did you have to do/prepare for the inauguration?
We practiced so much. There were multiple days where we had four hour practices. Towards the end of winter break up until we left, we had at least three or four rehearsals a week. Some of them were only two hours, but there were a few that were four hours and that was pretty brutal. We also had to practice outside because the studio wasn't big enough to practice the full parade cadence. So we went outside and were basically in the parking lot. Cars had to stop for us as we went by, but we had to do what he had to do to make sure we were practicing full out, and not just in a small space. It was a whole lot different going on the road than practicing in the studio.
What was it like to be there?
It was really cool. Once we were in front of Trump, you could tell he really enjoyed watching us. He turned to whoever was standing next to him and said "They're wonderful", you could read his mouth on TV. At that point it was at the end of the parade, and everyone was exhausted, but once we got in front of him you could feel the energy of all of us build up because we were all so close to the president of the United States. It was like nothing I've ever experienced before, because normally when I perform it's for peers, or people I don't really know anything about, but here it was for a celebrity, so that was just really awesome.
Have you experienced any political harassment because of it?
Not really. Everyone in the community was really supportive. Obviously, no matter who the president is, just to get to say you performed in an inaugural parade is cool, it doesn't matter who the leader is. For us, it didn't have anything to do with politics. Getting to have this amazing opportunity and go to Washington DC and do all of these crazy things was the biggest thing for us. I think people in the community really understood that, and didn't harass us at all for anything politically.
How many dancers did you go with?
There were 50 kids in the parade, and then we had 7 or 8 instructors. I'm not sure how many parents, not all of the parents went. I would say about 100 total in the group, and 50 that performed in the inaugural parade.