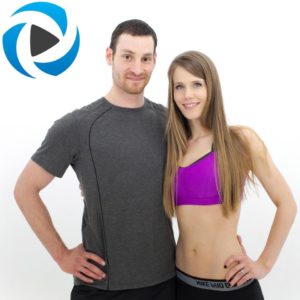 by Maya Girimaji, section editor
I'm no body builder. I definitely do not work out for 2 hours everyday. I don't aim to have that perfectly sculpted body. I don't exercise to lose weight. But I do exercise because I enjoy it and because it gives me confidence. Seeing how much I've progressed and how much my body has changed after working out for a few months or how I can now do some workouts with ease makes me feel stronger, mentally. But my biggest problem was not convincing myself to get off the couch to workout rather finding enough time to exercise. Then I found something that changed my workout routines forever: Fitness Blender.
Over summer I used to go to the gym almost every day for at least an hour. But once school started it just took too much time out of my day to drive 15 minutes to the gym, work out for only 45 minutes, and drive 15 minutes back. And 45 minutes isn't enough time for a proper workout. I would normally end up going to the gym pretty late because I had extracurricular activities after school. But I didn't want to stop exercising completely so I surfed the internet for at home workouts and found Fitness Blender.
Fitness Blender is a YouTube channel run by Daniel and Kelli. They post workout videos ranging from intense cardio routines to yoga to workouts focusing on certain parts of your body. Their videos range from 5 minutes to more than an hour. Their workouts are at different skill levels so you don't have to be a fitness buff to survive their workouts.
Both trainers are completely professional during the video and offer advice on how to fix your form, as if they're right there with you. As fit as both of them are, they even get tired during workouts and crack jokes, which makes them more relatable. Sometimes workout videos are very awkward, yet Daniel and Kelli are very organized with the setup and act in such a way that makes you feel comfortable while doing the workouts. They encourage you as you work and constantly remind you to breathe and to take a break if need be. And their workouts are fun. Daniel and Kelli always have new routines in all of their videos and throw in different workouts that you're not used to doing. It's not just basic squats or push ups or crunches the whole time. Sometimes you do kickboxing or spider man push ups or HIIT workouts.
And my favorite part about Fitness Blender is that I can do all of these workouts at home. I don't have to waste time driving somewhere. I can workout as much and as long as I need. I have control. Plus, it's free! And, to be completely honest, I've seen better results while using Fitness Blender than when I went to classes at the gym or did solo workouts. I actually feel challenged and am completely wasted after their workouts but when I went to classes at the gym I would always have to exercise for an hour more by myself before I felt that I had a good workout.
So give it a try. I'm really happy I found this channel and I don't think I'll ever get bored of it. I've gotten stronger and healthier and my physique has definitely improved. Exercising doesn't have to just be running or lifting weights left and right. It can be exciting and different. I actually look forward to exercising now because of Fitness Blender. I've attached one of my favorite workouts down below so have a go at it. And remember to keep breathing, drink lots of water, take breaks or adjust difficulty level when needed, and to just have fun.