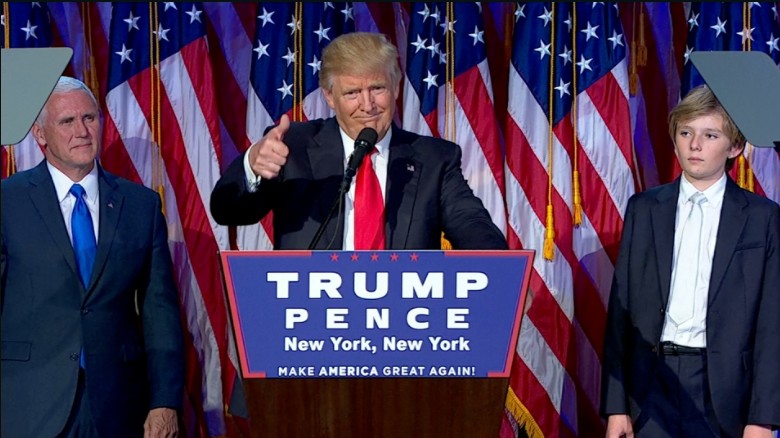 by Rachel Swartz, staff reporter
On Tuesday, November 8th, Republican presidential nominee Donald J. Trump was elected as the 45th president of the United States of America. At the end of the night, Trump fastened over 270 electoral votes, while Clinton held at least 220 electoral votes. Trump will take office on January 20th, 2017.
Trump celebrated his historical win at Trump Tower in New York City. Hundreds of supporters gathered inside the building to passionately cheer on and congratulate the president-elect. Trump thanked his campaign, his family, his friends, and his supporters for electing him as the next president.
Enraged Trump protesters have taken to the streets of several major US cities, a few of them taking place in Chicago, Oakland, Philadelphia, New York City, Denver, and Austin. Some damage has been seen on the streets, and some protesters have been arrested.
Despite these individuals' objections towards the president-elect, Donald Trump has promised to work hard for this country, and those who supported believe he will truly make America great again.
"I can only say that while the campaign is over, our work on this movement is really just beginning. We're going to work immediately for the American people and we're going to do a job where you'll be so proud of your president—so proud—and I love this country, thank you very much."
by Rachel Lamb, executive editor
After 18 months of campaigning, Hillary Clinton lost the presidential election to Donald Trump. Trump won with 290 electoral votes, with Hillary winning 228 electoral votes.  Additionally, Republicans maintained control of the House and Senate, and have the majority of governorships. Meanwhile Clinton won the popular vote with 60,071,781 votes (47.7%), Trump had 59,791,135 (47.5%) votes. 
Hillary conceded to Trump the following morning, stressing the importance of a peaceful transition of power, and thanking all of her supporters and staff. The election surprised many as it defied many predictions, calling for a look at where polls went wrong and how entities should handle elections in the future.
"And to all the little girls who are watching this, never doubt that you are valuable and powerful and deserving of every chance and opportunity in the world to pursue and to achieve your own dreams."