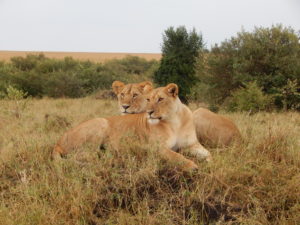 by Maya Girimaji, section editor
Everybody has an opinion of what an African safari could be like. Stories that you read online and clips from National Geographic seem like they would give you a good idea of safaris. So when my parents told me that we were going on one, I thought that I knew what to expect and would be prepared for anything. But, boy, was I wrong. No matter how many stories you hear, pictures you look at, videos you watch or books you read, nothing will EVER prepare you for a safari.
We landed in Nairobi at around 2 in the morning after a 20 hour flight, and spending two nights in Nairobi made me feel homesick for India. The hustle and bustle of city life made me feel like I was back in Mumbai. The smell brought flashbacks of hot summer days in Delhi. Despite the few similarities between Nairobi and big cities in India, it was so different and beautiful. The city was full of life, even at night. Every person you walked by would smile and say 'Jambo' (or hi). And the food was a gift from the Gods. Well, it's a gift from the Gods only if you like Indian food, which is popular in Africa due to the British Empire. They brought thousands of Indians to Africa around the 1860's as indentured laborers. Because of this, there is a large Indian diaspora in Africa today, which has a significant influence on the cuisine. We didn't get the opportunity to try a lot of African food, since I am a vegetarian, but it was clear that every dish had an African twist to it. And it was absolutely delicious. And the people are some of the nicest people you will ever meet. They are so humble and down to earth and are willing to help you with anything and everything. We were lucky enough to have some time to visit a Maasai village and a school that was nearby during our safari. That experience was eye opening. Maasai is a special tribe in East Africa who maintain their ancient culture and lifestyle to this day. The kids were so excited to see us and were almost in tears when we handed them all the pencils and pens we could find in our bags. And when we would drive through a small town, every person would stop and wave with a huge smile on their face. They, alone, made such a huge impact on me and my experience in Africa.
We had only 10 days in Africa and we wanted to explore as many national parks as possible. Africa has hundreds of parks scattered across the continent. We decided to go to the more popular ones in Kenya and Tanzania since the parks are close together. In Kenya, we went to Masai Mara. While in Tanzania, we went to Serengeti, Ngorongoro Crater and Tarangire. Masai Mara was especially popular at the time because it was the peak migration season for wildebeest with over 2 million wildebeest migrating from Serengeti to Maasai Mara. As close as these parks were (they were driving distance from each other) they still had a lot to offer and were each famous for their own thing. Serengeti is a Maasai word for 'the land of never ending space'. The Ngorongoro National Park is famous for having many species contained within the crater of an extinct volcano. And Tarangire is famous for its large populations of elephants and lions.
But traveling into the national reserves in Kenya and Tanzania felt like a whole 'nother world. You're no longer surrounded by people. You aren't safe anymore. You're in unknown land that you could easily get lost in if you took one wrong turn. You could never step out of your vehicle because you're in lion territory now. But the excitement of all of that and the many hours spent searching for animals is what an African safari is all about. An African safari is about that rewarding moment when you finally spot an animal. It's about those exhilarating moments when you're 10 feet away from two lions playing. Or when you're surrounded by hundreds of wildebeest and zebras and can't drive down the path because they're blocking the way. It's about jumping out of your seat for the 10th cheetah you've seen that day because you don't care if you've seen 50 cheetahs before. You still have the same excitement for the 50th cheetah as you did for the first cheetah. It's that adrenaline rush you get when you're zooming down the bumpy trail because it's rumored that a rhino or leopard was spotted nearby. It's watching an angry buffalo chase a juvenile male lion away, an event that is more rare than a hunt. It's that feeling of true fear when a mother elephant circles your vehicle and you have to hold your breath because she could knock your van over at any second. It's being distracted from searching for animals half the time because Tsetse flies keep stinging you. It's hearing the angry roar of a hungry lion in the middle of the night as you're lying in your tented cabin. It's the unpredictably of it all and knowing that one day you could be extremely lucky and see three of the Big 5 in one area (which I did) or go a whole day and only see wildebeest and zebras (which I also did).
It's nothing like a zoo. It's crazy and wild and terrifying. It's a trip that is so different from any trip I have ever been on, but that's what makes all of those long hours in the hot sun just waiting to see another animal worth it. It truly is a once-in-a-lifetime experience that should never be taken for granted because it's an African safari, for crying out loud.
Planning an African safari? Have any more questions for Maya? Contact her at the.roar.girimaji@gmail.com.