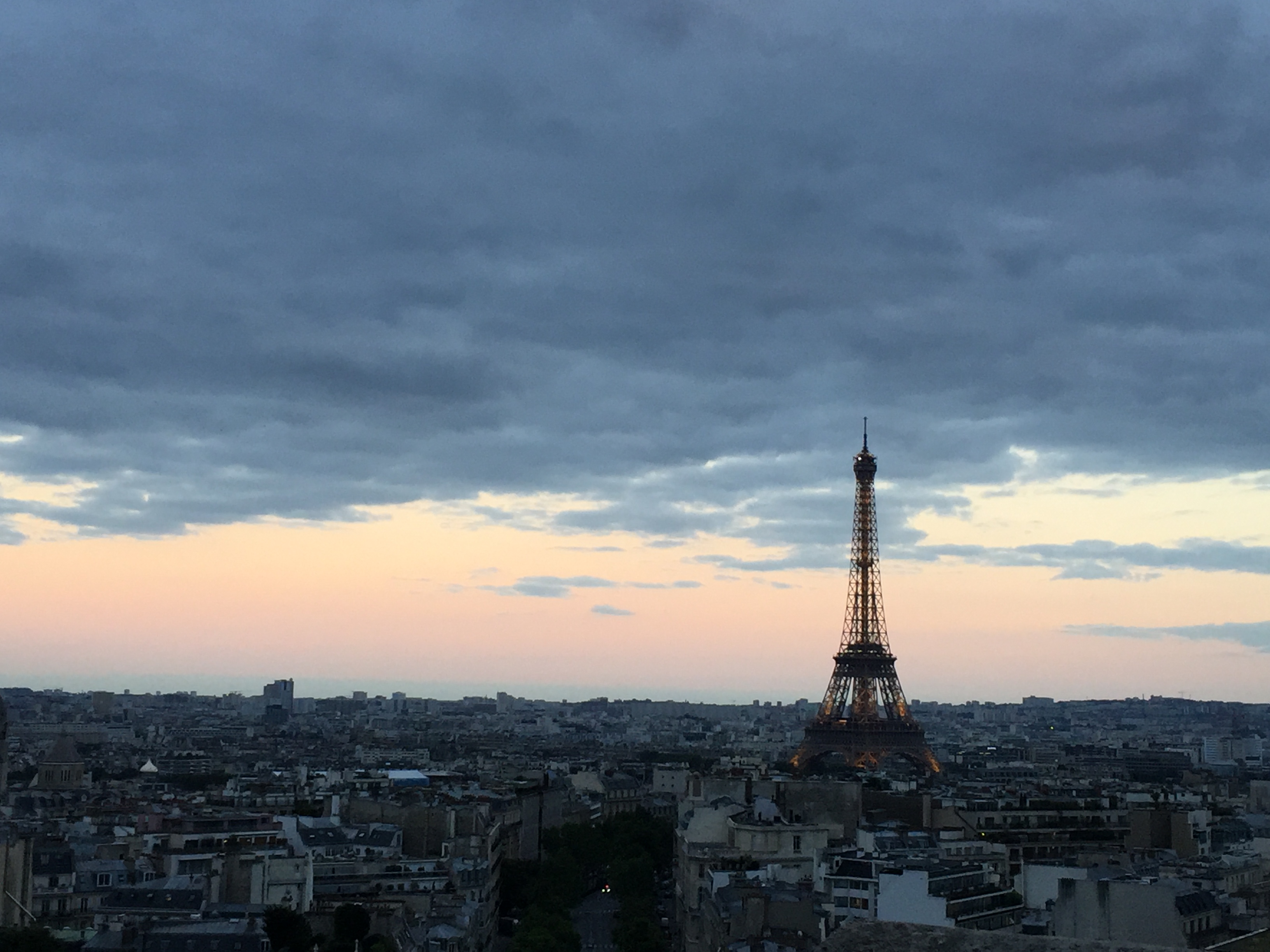 by Vi Burgess, editor-in-chief
Ever since I was a little kid, I've always wanted to go to Paris. It's been immortalized in so many films and so much great literature that in my head I've had this carefully constructed picture of narrow, winding boulevards and cafes with people spilling out on the street. And the entire trip was like stepping onto the set of some classic movie–over-the-top perfection, from the tiniest cobblestones on the street to the towering monuments.
However, here are some good things to know before you get lost in the shuffle of the thousands of tourists:
Paris is tourist paradise. They're everywhere and they always seem to be in the way of a great picture. Get used to it. A good way to get past that is to buy a Museum Pass (for adults) to skip lines, and have a prepaid ticket. At most monuments and museums, minors are free.
That being said, head for some of the more underrated spots, like Saint-Chappelle instead of Notre Dame (the former has phenomenal Gothic architecture and really bright, intricate stained glass that you can see without binoculars and fifteen million people in the way), and the Arc de Triomphe (you can see the Eiffel Tower light up at night, because the Paris skyline is a little lacking if you're actually on the Eiffel Tower).
At risk of sounding like my mom, a guidebook is really nice to have, especially when you're at a monument and you're wondering why a statue of a saint is decapitated. In the same vein, the Paris underground is unnecessarily complicated if you don't speak French, so downloading a routing app will save you lots of time and stress. So will Uber.
Two words: food heaven. Take advantage of the artesian, fresh food that's available in a lot of places–and I couldn't possibly recommend actual, legitimate croissants enough. Parisian restaurants also know what they're doing, so it's basically impossible to not gain weight from the sheer amount of good food. Also, the drinking age is 16 for beer and wine, so what's stopping you? (@parents)
 I was lucky enough to be there during the European Championships (for soccer), and Europe in general is nuts about it; it's playing everywhere. If you're feeling adventurous, go watch the game with actual Parisians in a cafe or bar, because it's really, really intense.
I was also incredibly fortunate enough to go to Berlin on the same trip. It's not a place I would have ever really dreamed of going, but it definitely stands on its own as one of the most modern cities in Europe.
Berlin has a stereotype about cleanliness, orderliness and punctuality that gets really clear the longer you stay there. Like when a train says it's two minutes away, it's two minutes away, and unlike any other city, the train itself is virtually spotless. I even saw a teenage boy stop eating his food because that was against the rules of the train. Pretty amazing.
The German government has really made an effort to seamlessly merge East Berlin with West Berlin. It's really hard to tell where the wall used to be or which side of the city you're on; the best (but not foolproof) way to tell without a map is to look at pedestrian crossing signals: the Eastern ones have hats. A significant amount of Berlin has been rebuilt or built in the last two and a half decades, so much of it looks the same across the former divide.
Because of severe bombing during World War II and the splitting of the city in the Cold War, Berlin lacks a lot of the fabulous historical buildings and landmarks of most of Europe. That being said, it does have the Brandenburg Gate, East Side Gallery and Checkpoint Charlie as more modern and arguably more important monuments. Germany in general suppresses World War II, with the exception of a phenomenal Holocaust memorial and information center close to the American Embassy. You won't be able to find Hitler's bunker or any Nazi symbol; there's really only one tour that covers WWII, as well.
In general, Berlin is very welcoming to tourists, from the large amount of people who speak some English to the many museums that actually have English captions for the exhibits. However, don't make rookie American mistakes like I did–stilettos may work fine on concrete but are really hard to walk in on cobblestones. Just saying.
Planning a visit to Paris or Berlin soon? Have more questions for Vi? Email her at the.roar.burgess@gmail.com.