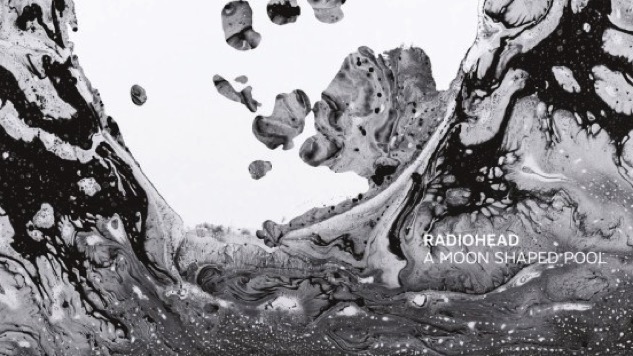 by June Jeong, assistant editor
I first listened to A Moon Shaped Pool a few days ago while lying in bed at 2 AM in the morning after finally purchasing the album off of iTunes. I blinked back tears after hearing "Daydreaming" for the first time (favorite lyric: "Dreamers, they never learn, beyond the point of no return"). In the standard Radiohead manner, this album is intrenched in paranoia and heartbreak.
In this album, Radiohead parts with most of their experimental sounds from The King of Limbs, allowing for a graceful and open experience for both life-long followers and first-time listeners. It's wonderful (especially for newcomers) because A Moon Shaped Pool is a celebration of subtlety. In it, Radiohead has not only mastered song-writing and arrangement (as it usually always does), they have also demonstrated a newer sense of adulthood and maturity. This maturity is only one way that Radiohead has constantly reinvented itself, but this time they have also gotten a step closer to beauty. It's an energizing expedition that breathes sentiment and anticipation and attains that through details. Radiohead knows what they are doing because they've understood the complexity of "less is more" and used it to their advantage to produce music this beautiful and frank. People say some of this is like Kid A but I have to disagree there; this is no Greenwood/Yorke album. It's a collectively made masterpiece that will live on.
As the band is famous for, Radiohead has once again delivered a collection of anxiety-infused music. Yorke worries about a variety of issues: environmental destruction, dying love, mass mindlessness, and losing control of himself. (Ful Stop: "You've really messed up everything.") And the opening track, "Burn the Witch," is a spiral of strain, illustrating our society turning a blind eye to its own witch hunts)) My personal favorite, "Glass Eyes," was possibly the most powerful song on this album while also incredibly delicate and gossamer-like. ("Hey it's me/I just got off the train/A frightening place… faces are concrete grey"). He is admitting that a panic attack is washing over him once again. And this vulnerability is moving. Perhaps best of all is that though the song begins as the most tragic of ballads, with minor piano chords drifting into a haze as the singer arrives in a frightening and unfamiliar place, eventually, he discovers what may be a relief from his suffering. The end gives us a hope and a small sense of reassurance that Radiohead doesn't normally provide. And an individual character's loneliness can communicate to a deeply rooted group empathy. Finally, the song ends as delicately and gently as it begins, with Yorke's voice vanishing softly behind string instruments, a fading conversation. ("A path trails off and heads down the mountain." "I don't know where it leads; I don't really care.") The cello that lingers at the song's end seems to encapsulate its meaning as much as the lyrical symbolism. The murmurings and triangle-like jingles give the music an otherworldly and shining aura, but Radiohead's beauty is always accompanied with existentialism and apprehension. for the most part, "A Moon Shaped Pool" is an album of painful lullabies. (Daydreaming: "Beyond the point of no return/and it's too late, the damage is done.")
Throughout the album, the state of the world and the state of the singer's heart melt into each other. The album tackles Yorke's own battles while also exploring broader issues such as the insidious nature of propaganda, human nature's tendency to gravitate towards unquestioning obedience,  broken relationships, and mental illness (In Identikit: "Broken hearts make it rain, pieces of the wreck of mankind that you can't create.") The best way to describe the album is by recognizing the beauty in its implicitness and honesty. The ambience and chord progressions are so uniquely Radiohead's, yet it is obvious they've attained a new sound. It's an elegantly-composed album, so full of small details (like the pizzicatos in Burn the Witch, the repetition of the same 2 chords in Daydreaming, or the haunting sound of a throbbing cello in Glass Eyes ) that add tremendously to the entire listening experience.