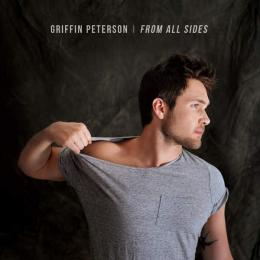 by Katerina Kountakis, staff reporter
Normally, I do not listen to country music at all. The only exceptions are Carrie Underwood and Taylor Swift, but even now Taylor Swift has turned more to the pop side of music than country. The country songs you hear on the radio are, most of the time, about beer, girls or trucks; even though those things are awesome, hearing about them all the time gets tiresome and annoying.
But it wasn't until I saw Griffin Peterson perform in Austin that country music was something more than beer or trucks again.
On his album, From All Sides, Griffin writes all the songs about many life experiences. One of my favorite songs is "Even If Your Back Was Turned." It's about his parent's love for him and how they were and always will be there for him. I can relate to this a lot, because I know how much my parents love and care for me, and every time I hear this song I am reminded of their love and thank the big man upstairs for them. Without them, I would probably never get anywhere in life, and it turns out Griffin thinks along the same lines.
This album has creativity of all different styles while still staying true to original songwriting. I got to meet with Griffin and the rest of the gang after they performed and they were truly the sweetest, talented and most kind hearted men I have talked to about music. They love what they do and pour their hearts and souls into their music. And it shows. In all the songs, you can hear the emotion and passion in Griffin's voice and the fun beat of the drums. My favorite songs are "Bones", "Take Us Away", "Wait", and "For A Little While."
Even though Griffin Peterson is still a fairly new artist, I have no doubt that he will make it big one day, bringing a fresh start to country music again.