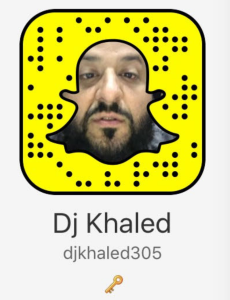 by June Jeong, assistant editor
We all already know that all DJ Khaled does is win, win, win — no matter what. Since September however, Khaled has had a way to show us how: viewing his Snapchat Story became the highlight of my day since a week or two ago, after some of my friends convinced me that Khaled's story would change the course of my life. And they were right.
Ever since Khaled made a Snapchat account (DJKhaled305) in September, he's been entertaining millions of fans with his sometimes cringworthy but always encouraging snaps, illustrating his "keys to success" (a little spoiler: the majority of them have to do with hygiene+using Dove soap). And after watching his story every day for the past week, I've taken notes of some aspects of Khaled's story and his personality.
According to Khaled, there are some activities that thehaters just don't want you to do, and that's basically why you have to do them. They don't want you to eat breakfast, eat lunch, be in a Rolls Royce, have a No. 1 record, have a nice haircut or smile. Fortunately, Khaled is too preoccupied with venturing right now on his "journey to more success" to allow his naysayers  to tell him what he can and can't do. Every day, Khaled posts videos that feature his diverse lifestyle; they show everything from his mundane day-to-day activities (like taking a shower or putting on deodorant), to his inspirational speeches and crazy adventures. These interesting compilations of clips by Khaled are now considered part of social media curriculum.
Additionally, Khaled teaches the importance of positivity and self-motivation. His Snapchat story is an endless source of energy and enthusiasm. Sometimes I'm confused as to whether I'm laughing at him or laughing with him, but I think this strange middle ground is part of Khaled's unique appeal. He's in many ways a 'living meme.' His spicy catchphrases like "another one" and "bless up," have become mantras for many. He is now considered the lead user of the 'key' emoji and his constant references to "the keys of success" have revived the previously unpopular emoticon.
Khaled is also refreshingly honest and himself; he encourages his fans to follow his lead. While other hip-hop artists tend to use their Snapchats as a means to only promote themselves, or aren't comfortable making public such moment-to-moment actions, Khaled knows no such hindrances. He films himself while in the shower, slathering his bare body with cocoa butter, getting pedicures, walking around in his garden, and swimming in his pool.
Perhaps most importantly, DJ Khaled is a pinnacle of success and inspiration for many. He occasionally posts videos of his fans who spot the Homogeneous Khalidius in his natural habitat, the water. "They don't want you on yachts!!!" they yell excitedly towards him from their boats. Khaled's story has become so influential that other more popular celebrities like Drake and Justin Bieber have started using his hilarious lingo on their Snapchats as well. So while I'm not a huge fan of Khaled's music, I just can't deny his captivating talent in amusing, addicting and inspiring his Snapchat followers.